Custom Men's Suit in Chilliwack
Why Pay the Same for Off-The-Rack if it Isn't Custom?

Own garments you love and know how to wear

We always aim to understand our clients wants and needs

Create a safe place for clients to take their time and ask questions

Respond to every inquiry, follow-up or question
---
We have closed our Chilliwack meeting room, you can now meet us at our Abbotsford location by appointment only.
During our appointment at our meeting room we:
Take 21 of your measurements

Guide you through the process of choosing fabrics that fit your style and needs

Design a fully custom outfit that is one-of-a-kind and made from scratch

In approximately 5 weeks (less with rush orders) we have you in for a fitting

If any alterations are needed, we cover the cost

 

With thousands of fabrics and expert advice, we ensure a perfect fit
---
Common issue we hear all the time:
"I have to buy a suit that fits my wide shoulders but the stomach is too big and the sleeves are too long."
"I have to buy pants that are a few sizes big to fit my thighs then the hips and rest of the leg are so big."
We solve both of these issues by cutting the fabric using your measurements, not "expected measurements". Off-the-rack assumes 19" shoulders and a 46" chest should have a 42" stomach.
If you are 19" shoulders, 44" chest and a 36" stomach, we cut the fabric to THOSE measurements.

Clients also come to us because they want a higher quality fabric and realize the price is the same at the end of the day as off the rack. Especially since we cover the cost of alterations.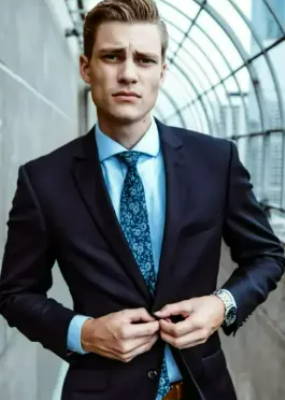 ---
Frequently Asked Questions
FAQ

Where are you located?
Our Cjhilliwack meeting room is currently closed. You can visit us at our Abbotsford meeting room by appointment only. It is located at the Mark building at 32615 South Fraser Way. (Across from West Oaks Mall)
​
How long does the appointment take?
Approximately 60 minutes per appointment, allow 60-120 minutes for our Capsule Wardrobe.

​How is your "custom suit" different?
We take 21 of your measurements and cut the fabric from those measurements. Made-to-Measure (MTM) cuts off of a template and Off-The-Rack (OTR) is already made with very few options for alterations. We are more of a bespoke company.

What is the approximate price?
Our suits range from $799-$1,299, you can see our fabrics page here, with all of our pricing.

How long does it take to create my outfit?
5 weeks on average but we can do rush orders if needed. We prefer that you book your appointment 4+ months before an event.

What products do you sell?
Suits, tuxedos, blazers, sport jackets, overcoats, top coats, dress pants, dress shirts, vests, ties, bow ties, and pocket squares.

What happens if it doesn't fit?
We cover the cost of alterations and remakes if they are needed.
OUR CLIENTS LOVE OUR GARMENTS
I am extremely pleased with the suit that I purchased from Cardero Clothing...the suit fit wonderfully, requiring no additional changes. I was astonished at how comfortable the suit was! The pants, shirt and vest were quite comfortable..Overall my fiancée and I agreed the suit was of excellent quality and value, I will definitely shop at Cardero Clothing again!
Learn how to dress for your profession and body shape. Also, learn quick style tips and get access to new products.