Bodybuilders and muscular men wearing suits can be hard to look at. They work so hard at the gym but when it is time to attend a formal event they are lost at where to buy a suit that fits. They either don't know bespoke clothing exists or they believe the myth that it costs a ton of money. In this post we will tackle the fit, colors/patterns, personalization's and accessories you should be wearing.
---
---
Before Customing Tailoring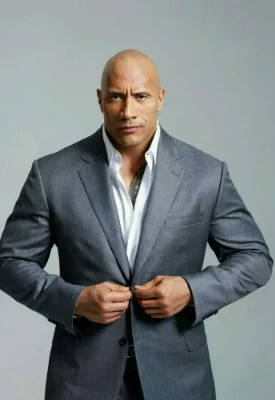 ---
This is the key point, if you don't get this right it will ruin the whole outfit. It doesn't matter if it is a $500, $5,000 or $50,000 suit, fit is crucial. Here are the main areas you will need to focus on:
Tapered in the waist and pants, fitted in the shoulders and chest. 
You do not not want to look too bulky and the clothing should show off your physique, not accentuate it.
Proper length in the jacket, sleeves and pants. See the below photos for a perfect guide on this from The Art of Manliness.
Your issue will almost always be buying something that is too big to compensate for a larger chest or thighs, making everything else too baggy. Read this blog post to see what bespoke clothing is, which will eliminate that problem.
---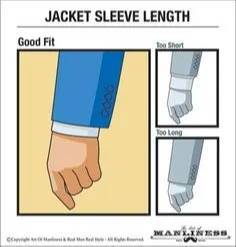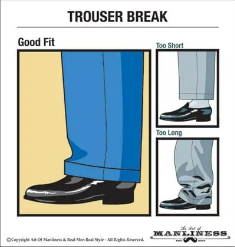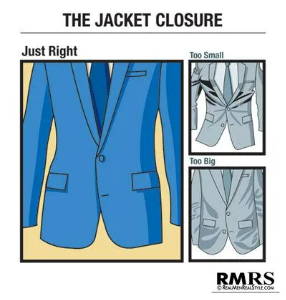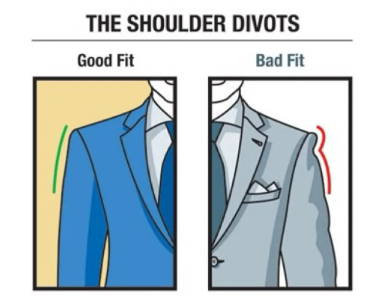 ---
If you are a competitive bodybuilder like some of our clients you may have to have two different outfits, one for your lower weight and one for your competition weight. We do this for many clients who drop and gain weight in the same range over the year.
---
---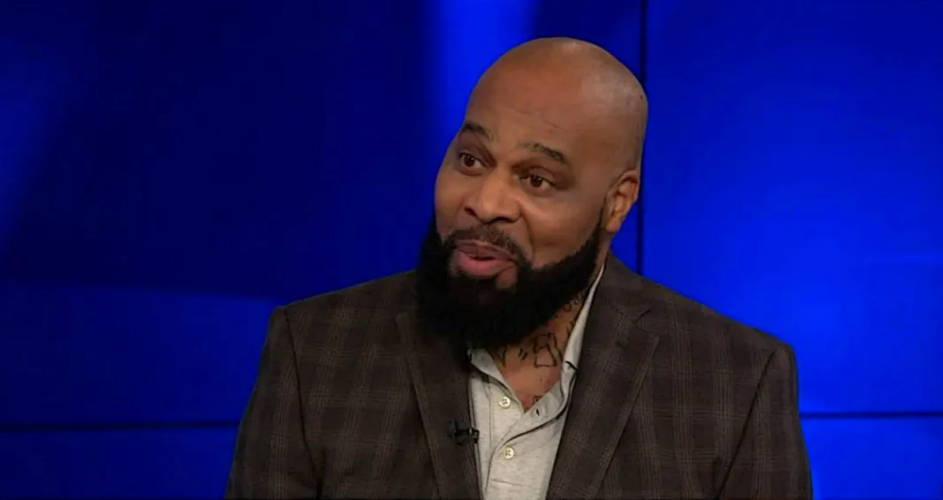 ---
Bolder colors and patterns will usually be a bad look for you. When you enter a room most eyes will be on you anyways, you do not need to go overboard here. This is our suggestion, and you can do what you want, so we will leave that up to you but here are our general guidelines.
Choose subtle patterns (as ISYMFS C.T. Fletcher exemplifies) or solid colors, navy blue, charcoal, olive, brown and in the summer, light grey or even a light pastel blazer (light blue for example) with neutral dress pants.
As for fabrics, choose lighter wool or cotton so you do not add more bulk and size.
---
---
---
These touches will make the look and tie everything together.
Wide lapels (the lower collar spreading across the chest) will bring the right attention to your broad shoulders. Having skinny lapels, a skinny dress shirt collar or a skinny tie will leave you looking disproportionate and silly.
Your jacket will be a larger size so little additions will help. Adding a ticket pocket (the smaller one on top) takes up the space which makes sure there are no large unoccupied spaces on the jacket.
---
Watch a Quick Video to Learn More on Suit Fit for Bodybuilders
---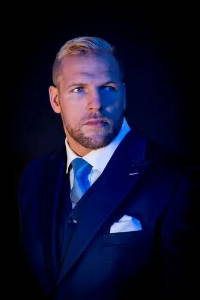 As mentioned above anything skinny will look terrible on you.
Go with a wider tie, think 3.25" at the very least. If you are much larger go with a 4" tie and keep your dress shirt collar and lapel width to that as well.
Wear a pocket square for the same reason you would wear a ticket pocket, it draws the eye upward naturally and breaks up a large space in the jacket.

Wear less layers. No sweaters or heavy materials that will add bulk
---
Bespoke is your best option at the end of the day. You can choose the fabric and personalization's that fit your body style. You do not need to worry about the cost of alterations or buying something way too big for you.

If you are wanting to work with what you have, find a highly recommended tailor in your area to taper and hem your clothing. They can also take out the shoulder pads which add a lot of bulk.

If you have any questions or would like to use us for your next outfit, please do not hesitate to reach out to me personally.

- Derek Burbidge
Owner/Founder of Cardero Clothing
---
OUR CLIENTS LOVE OUR GARMENTS
I am extremely pleased with the suit that I purchased from Cardero Clothing...the suit fit wonderfully, requiring no additional changes. I was astonished at how comfortable the suit was! The pants, shirt and vest were quite comfortable..Overall my fiancée and I agreed the suit was of excellent quality and value, I will definitely shop at Cardero Clothing again!
Style Tips for Bodybuilders
Learn how a bodybuilder should dress, from the fit of their suit to flattering colors.